This is the follow-up post to the last Webfinds-Wednesday post which you can find here, and in which I showed you the Flickr photostream of Judith Hoffman. As you probably realised while reading the first post, I am very much at awe of Judith and her work. I guess I feel a certain kinship in seeing her playful approach to many things she comes across, and the way she tries on new things, and is happy to share this experience and what she learned. – And then, at the end she comes up with the most amazing books, all simply stunning to me. And so I am very happy that she took her time to answer my questions! We did not actually sit down for an interview: I sent her a bunch of questions, and  she sent me her answers. But for the sake of this blogpost, I am going to build up the fiction of an interview.
All images that accompany this blog post are by Judith Hoffman and have been used with her permission.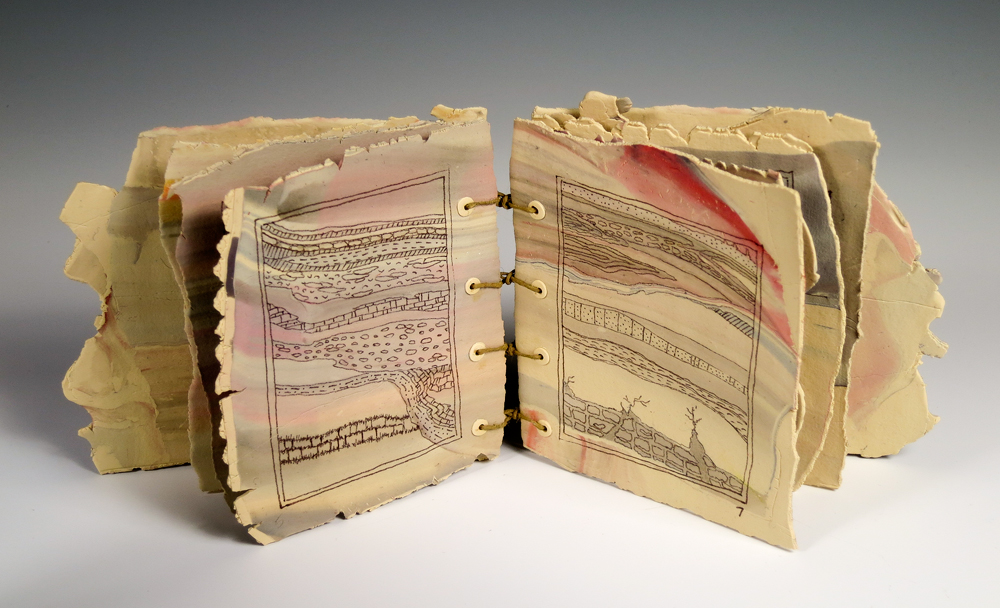 Hello Judith, thank you very much for taking the time for this interview! For our readers: We are here in Portland, Oregon, to where you moved a bit over a year ago. You do not have a proper studio yet here, is that right?
Hello and welcome. Yes, unfortunately I currently have only minimal studio space and most of my tools are in storage, so work progresses only slowly. But I did finish one new book this year: Metamorphic Suite, my first book made from polymer clay.
Looking through the galleries on your website, the majority of your work makes use of metal. You studied Fine Art in California, your BFA and your MFA thesis are about metal works and books. – You seem to have found your medium very early. Yet you are trying on a lot of new things, techniques, media all the time. How do these two ways of working fit together? This polymer clay book, is it an excursion from which you will return to metal books, or might you leave metal to embrace a new medium altogether at some point?
My main focus is on books, the medium is secondary. I love books, their format, the experience of turning the pages, finding something wonderful inside. I imagine books to be magical, containing all I need to know about the world and about life. Collage was my first real love. I had done ceramics, drawing and painting, but collage just felt right and still does. It's so fragmented, so random. I love working with a big pile of possible bits of paper spread out before me. I started playing with polymer when I wasn't getting any artwork done. I felt I needed something to excite me, to get me into the studio. I imagine I will continue to use polymer, maybe combine it with paper books. I tend to "follow my nose" when I'm making stuff. Whatever I am most engaged with at the time is what I will do. There is a moment when I have finished something. I sit and look at it, trying to see it with new eyes. If it makes me laugh, if I feel drawn in or enchanted by it, then I am happy. In some sense I don't care how I get there. Although of course it has to be a media and process that I enjoy.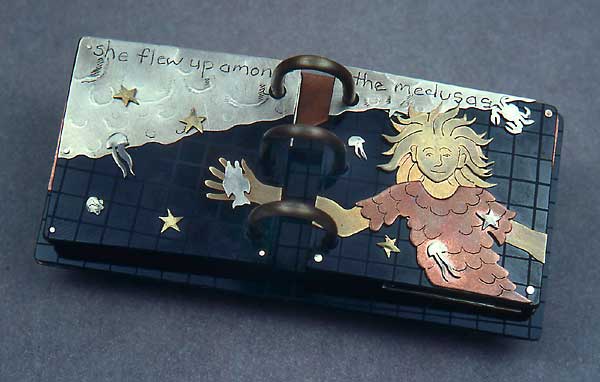 Is there a difference for you between playing, trying things out, and serious artwork? Or is the transition seamless?
There definitely is a difference between my serious artwork and results of playing around. The things I make for play have no rules. They also don't have to hold up to being handled or shipped.
The play is mostly testing materials or trying a new technique. Although I have shown them in informal settings like an open studio, nothing I have made as a model ended up being truely exhibit worthy.
I have different approaches, depending on the media. When I am working with paper, collage, and the little bit of polymer I have done, I usually start with some kind of vague idea and see where this takes me. I might start with no definite goal in mind. To keep from getting frozen with indecision, I need to constantly remind myself I don't have to show it to anyone, or maybe I can change it. For example I'm working on a book right now using eco printed paper, for which I used fallen leaves and rusty objects to make marks on paper. It is fall, and I think about death and decay, time passing. Last week when I stopped working on it I thought it wouldn't work out, but today when I went back in the studio, I like it better. I'm not sure where these pages will go, or if I will be happy with them in the end.
For metal work I have to make drawings, have a plan. I often make a paper model from plain paper or card stock so I can get some idea of how things might look.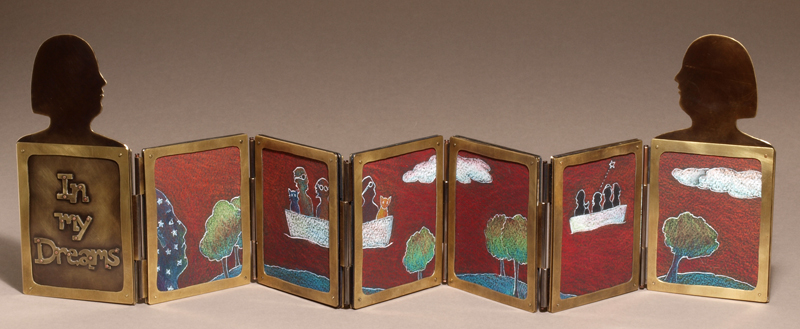 So for your metal books you think through concepts more?
I feel I don't think about the concepts enough, I do often go with intuition. I made a book a few years ago called In my Dreams We travel in Boats. It was accepted in a show at Abecedarian Gallery. Alicia Bailey (the owner of Abecedarian) said "Filled with colorful drawings it has a solidity of weight quite at odds with its subject, a series of flying dreams Hoffman has had." I think she is right, while I would like to make many of my dreams real, the book is too solid, too square, too heavy (lots of brass). I just didn't see that while I worked on it. I wish I had thought more about the concepts for that book.
That reminds me, also in your artist statement you write "Photos enshrined in brass-bound books are more true than a single photo in a frame." Does metal lend reality to objects or ideas?
Presenting a photo in a brass bound book helps create evidence of an inner reality. It reflects the essential character of the subject of the photo. The physical object leaves an accurate impression, perhaps of a dream or a view of the Late Cretaceous. The solidity of a brass bound book helps us to see the truth of the photo of a dream that we might otherwise dismiss as fanciful.
While you mention the Cretaceous: In your work you incorporate dinosaurs a lot. Why dinosaurs?
When I was about 10 my grandparents sent me a telegram on my birthday and the Roy Chapman Andrews book All About Dinosaurs. I was thrilled by both of them. In 1990 I made this little book for fun, it seemed like an anomaly at the time: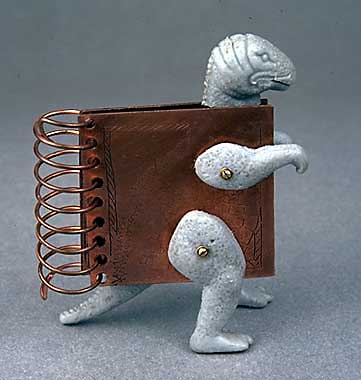 In 2005 I got another copy of All About Dinosaurs and started using dinosaurs. I'm sure they represent something important to me, I'm not sure what. There is the minor joke that as I get older, I'm becoming a dinosaur.  
Other than books you also make jewelry and pinhole cameras…
I used to make jewelry. I did quit that because there was too much paper work, keeping track of many identical pairs of earrings, etc. When making jewelry got to be tedious, I would take a break and make an artist's book. Finally I decided I wanted to spend all my time in the studio making artist's books.
I became interested in pinhole photography almost accidentally. It used to be a summer tradition to have a family art camp at our house. My niece came, and my adult son. Shad, my son, wanted to do photography in 2006, and we played with different cameras. I was immediately hooked on pinhole cameras. Part of the appeal is that I can make a functioning camera. I can use film or photo paper as negatives. It's all magical to me. I made a few books that hold pinhole cameras, and also a dinosaur pinhole camera. This camera takes photos of dinosaurs, mostly in the late Cretaceous. You can see some of these photos here. And there is a little book of the first set of photos here.
How imporant do you think is play in the reception of your art? I am thinking of photos of your visitors with spectacles on.
Play is a part of my thinking, as I'm working. I do often chose very serious themes, but don't want them to be too obvious.
I don't think about studio visitors playing, but if they do I am pleased. I do encourage people to try on the spectacles. Part of that experience is seeing through the lens on some of them. Or seeing how someone might look wearing Spectacles for a Fish Goddess.
I do think being silly, playing, just fooling around are important aspects of connecting with people, being alive. Part of the appeal of book arts to me is that people do pick the books up to experience them. There can be a feeling of play, turning pages or experiencing things in a new way. Maybe the play is more important than mulling over the big questions. And the mundane is a part of life. We are here, we are alive for this brief moment. Each of us has things to contribute to the world. Things that might make one other person say "oh yes, I'm alive too. It's all so beautiful." That makes me feel happy. I realize my life has been hard at times, but here I am, alive, making art and cleaning the toilet. Isn't that wonderful? When I'm actually cleaning the toilet it doesn't seem so wonderful, I'll have to remember this next time I'm cleaning.
This seems like a good end note. Thanks a lot for this interview!