I finally started the production of my mini pop-up book this last week. And while I cut a little bit of blue sky away around some roof every now and then, I want to tell you about how I got into making this book and what it is about.
Ich habe endlich mit der Produktion der Mini-pop-up-Bücher begonnen. Während ich hier und da ein wenig an einem Häuserdächlein herumschnitze, erzähle ich mal, wie ich dazu kam, diese Büchlein zu entwerfen, und worum es dabei überhaupt geht.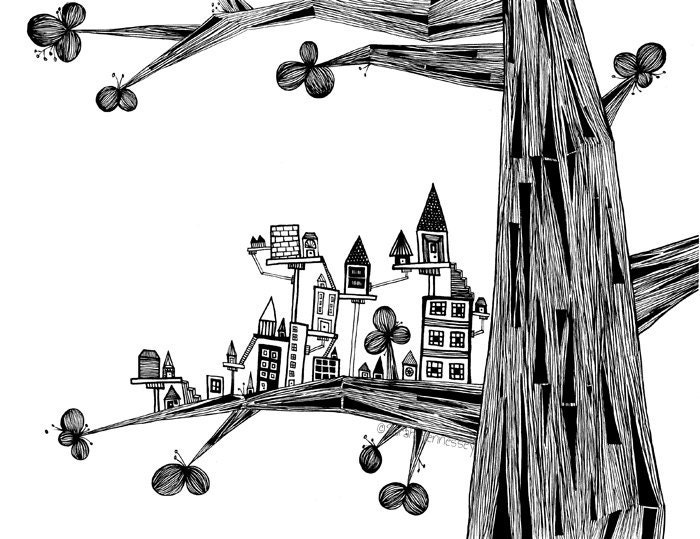 About half a year ago I saw this image on the left on the Etsy front page. I liked it so much that I copied it into our children's diary. When some weeks later I saw it there, and still liked it a bunch, I bought it to hang it in my studio. There it hung for a while and I pondered the many stories about the little people living in these little houses. What fascinated me about the image was that they were houses on a tree. What kind of people would live there, up on a branch, and built these gravity defying structures? After I had both kids home, I decided to add some more color to their room and paint on the wall. Inspired by this image, I decided to paint houses on a tree on a spot beside their changing station. The part that we all came to like best about my variant of the city in the tree was the flare red rocket on a platform and the story about the little astronaut in the rocket is the story I tell them most often. (Not as if they would understand what I am telling them but they look at me with serious faces while I am telling the story and look at the rocket when I am pointing. I guess it is never to early to start their interest in stories. Anyway…)
The motif remained in one part of my brain, and about the same time I thought of turning it into a book, too. But my thoughts now concentrated on the rocket and the science of these platforms. And so I eliminated the tree, and thought of making a book with a city with platforms and with a rocket. Some kind of future city. And I thought of placing the houses in front of some city skyline, and it turned out like this. And from there on you know the story: I then I turned it into a tunnel book, and then into a pop-up, and then into a mini-pop-up. Well, that was how this imagery came into being.
Ungefähr vor einem halben Jahr, habe ich das Bild oben auf der Etsy-Startseite gesehen. Ich fand es faszinierend und kopierte es in unser Kindertagebuch als Dekoration auf dem Seitenrand. Als ich dann später mal im Tagebuch zurückgeblättert habe, fand' ich es immernoch toll, und habe es gekauft. So hing es nun eine Weile in meinem Atelier und Arbeitszimmer, und ich habe immer mal wieder darüber nachgedacht, was für lustige Geschichten man über die Leute in den kleinen Häusern erzählen könnte. Was mich am meisten fasziniert hat war, dass es eine Stadt auf einem Ast ist – was für Leute wären das, die dort wohnen würden und solche haarsträubenden Plattformkonstruktionen errichten würden? Als wir beide Kinder zu Hause hatten, wollte ich ihnen etwas an die Wand im Kinderzimmer malen. Inspiriert von dieser Stadt auf dem Baum, habe ich ihnen eine eigene Stadt auf einem Baum entworfen. Es hat sich herrausgestellt, dass das, was uns allen am besten daran gefällt, die leuchtend rote Rakete ist. Obwohl das Bild nun an der Wand war, hat mich die Idee noch nicht losgelassen, und ich habe eine Weile gekritzelt und gezeichnet. Als nächstes habe ich den Baum wieder weggelassen, und habe Häuser und Plattformen vor eine Skyline gesetzt. Der Gedanke war eine Science Fiction Stadt zu entwerfen. Als nächstes kam Farbe dazu, und das Ganze wurde zu einem Tunnelbuch, und dann kam das Pop-up, und wurde dann endlich zu dem Mini-pop-up.
Es gibt auch Text, der in dem Buch steht. Doch davon erzähle ich dann ein andermal.
The text that goes along that image is a different story and will be told in a new post.