How do I tell the story of this book? Should I start with how I bought the ballpoint pen for it? That would probably be terrible boring, and it is a bit embarrising to tell you that I don't usually buy ballpoint pens, – I just happen to have some. You know, you receive them as advertisement carriers, or forget to hand them back when you fill out a form, and the like. But when I came across a packet of bic biros in a Morisson's they had this inexplicable pull and I bought them. And then I had a bag of ballpoint pens that I actually paid for, and felt I couldn't use them because somehow they seemed precious to me. – Ah well, it seems I just told you the story anyway. So be it. So I'll cut myself short on how I have been obsessed with scrolls for a while, – and just leave it at that.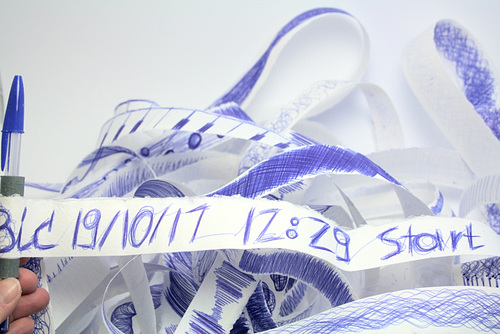 And then, while I was sitting at a table, editing my novel (or rather, crossing out large parts of rubbish that I wrote in an attempt to write a novel; with a pen that wasn't one of the pristine pens in my packet of bic pens), I had this idea to use one of the completely new pens and write with it until it was empty. It was a Thursday, half past twelve, and half term in just a couple of days and I was desperately trying to come to a point in my various project, where I could leave for the school holidays and then pick up the thread two weeks later. So I didn't really have time to do it. But, as naughty and stupid those ideas sometimes are, it wouldn't let me finish working on my writing, and forced me into my studio and to the table.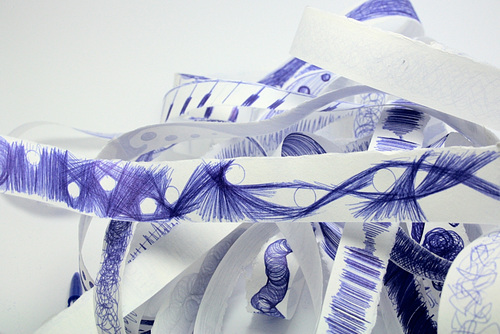 It was a totally relaxing and freeing exercise. I experimented with different ways of making marks with these pens. I thought I might make more of these scrolls, maybe one each for the red, black and green pens that are also in the bag. But now I am not so sure anymore. Maybe I'll try it again as a mind soothing exercise when I feel stressed out again.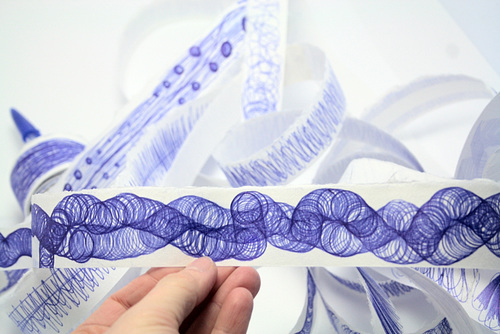 I thought I finished, by the way, about four hours later. You can see more detail images of the scroll on ipernity or Flickr.